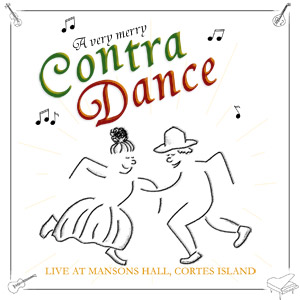 A Very Merry Contra Dance
What happens when you put together some hoppin' acoustic music, a few simple, elegant and lively dances, and eighty-odd friends and neighbours on a cold, rainy day in November? Pop this CD into your player to find out!
Contra Dancing is a fun, simple and festive activity that is guaranteed to provoke mirth and merriment amongst both dancers and spectators, young and old. It can be done in a living room, a hall, a ballroom or a barn. There are no complex steps to learn, so people who have never danced before can be kicking up their heels in no time.
The CD - featuring thirteen lively tunes played on fiddles, piano, guitar and mandolin - also includes instructions to get you through six of our favorite contra dances (including a detailed explanation of all the moves you'll need and tips on how to call the dances).
Purchasing Options

MP3 Album
Download for immediate listening on your computer or MP3 player.
$10.00
Add to Cart