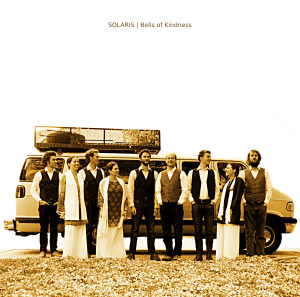 Bells of Kindness
Covering a range of genres from meditative folk-ballads to hip-hop, Bells of Kindness is the first full length Solaris studio album. With a solid and unique folk-rock sound, the album puts powerful vocal harmonies behind lyrics that are insightful, healing, courageous, and quite often funny.
On Sept 17th, 2015, we squeezed ourselves and a huge pile of instruments into two overloaded vehicles and headed South on a shoe-string budget musical tour. Forty days and 3,600 miles later, things had worked out remarkably well. We had survived tire blow outs, heat stroke, and equipment failures. People came, listened, sang, danced, laughed, cried, connected, and afterwards gifted us with their heartfelt recognition and encouragement.
The budget hit zero in Salt Lake, and as busking for daily bread became the new normal, things got even better. Friends had already offered us the use of their pro recording studio, including the recording engineer, and now they added a house to stay in! Another surprise gift filled the gas tanks and we were on our way to record a new CD.
The 20 songs for this album were all recorded "live", standing in a semicircle like we do on stage, in 6.5 days. Between studio sessions, we rehearsed, did two dance presentations, played a church service and four concerts in three cities, celebrated Thanksgiving, a birthday, and then packed for the long haul drive back to Sacramento.
Back on the West coast, one good thing kept leading on to another as an improvised, week by week, truly epic four and a half month tour unfolded. Concert events, church services and children's schools. A Buddhist monastery, an Aikido Dojo, an urban sustainability centre, a youth rock camp, homeless shelter, elder home, and a concert at the state capitol. Contra dances, farmer's markets, musical jams, open mics, dance presentations and busking. Meditation, dance, rehearsals, introspective songwriting and intriguing encounters. The magic of music was bridged together by hard work, faith, intuition and many spontaneous acts of unexpected kindness and remarkable generosity.
With profound gratitude to all, for the help, encouragement and enthusiastic support, here is Bells Of Kindness. May this music be as good for you as it has been for us!
Purchasing Options

CD
Order this album on a CD.
$14.50
Add to Cart

MP3 Album
Download for immediate listening on your computer or MP3 player.
Free
Download

MP3 Album
Download for immediate listening on your computer or MP3 player.
$9.99
Add to Cart