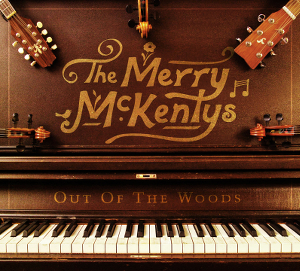 Out of the Woods
Sweet and lively traditional tunes played on piano, mandolin, guitar and three fiddles.
We started playing traditional music one snowy winter while living in a very small mountainside cabin without electricity. It was a long winter full of surprises for a family of novice homesteaders. When our battery-powered tape deck stopped, fiddles and mandolin became our only source of instrumental music. Since then the instruments have come almost everywhere with us, including our migration west onto a wooden sailboat and many shoe-string and bailing-twine tours in our old blue van.
Some fiddle recordings feature jaw-dropping playing skills and blistering tempos. This isn't one of them.
Our family style of music making has always been about having fun playing together. We've aimed for cheerful, good-hearted tunes played with enough skill to keep skill level out of the foreground, enough humility to let the music come through the musicians, and enough spirit to get your toes moving and your face smiling. We hope you enjoy the results!
Many thanks to everyone who has encouraged our musical adventures over the years, and special thanks to Mum (our Supporter in Chief), and to Meg, Mel, and Grandma Charlotte for helping get this CD completed! And finally, thanks to all those past and present who make the world a more harmonious place through playing, composing, and enjoying joyful and uplifting music.
Happy listening!
Purchasing Options

CD
Order this album on a CD.
$20.00
Add to Cart

MP3 Album
Download for immediate listening on your computer or MP3 player.
$12.00
Add to Cart