Creative Culture Guide Cortes Island Launch at CCEDA Village Commons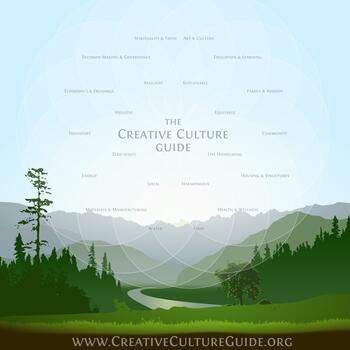 Where:
CCEDA Village Commons
Mansons Landing, Cortes Island, Canada
When:

Friday, Sep 23

<00>rd00>

, 2022 at 1:00 - 3:00pm
Info:
Celebrate LIFE on Glorious Earth & Creative Culture Join Folk U radio host Manda Aufochs Gillespie, for live music with the Awakeneers, interviews with the Creative Culture Guide Website development team and discussion of Creative Culture and Sustainability on Cortes Island. This Folk U event is the official launch of the online Creative Culture Guide. Five years in the making, the website provides an evolving mandala of guiding principles, best practices, primary sources and regional resources for an enlightened, regenerative and sustainable society. Tune in Friday Sept 23rd, 1pm - 3pm - online at cortesradio.ca - on-air at 98.5 FM or in person at the Village Commons in Mansons Landing.
The Creative Culture Guide is an evolving mandala of guiding principles and resources for sustainable society.
The mission of the guide is to serve as a complete and concise set of guidelines for a society where humans co-exist in a harmonious and equitable balance, honoring and supporting the well being of the entire biosphere and all its inhabitants.
Each sector of the mandala represents a fundamental human need and is addressed with an overview of principles for holistically understanding and addressing the topic.
The unique graphical interface brings attention to the vital connections across sectors, highlighting the opportunities and importance of holistic integrated solutions.
The sectors of the Creative Culture mandala are accompanied by a curated directory of resources for going deeper into each topic. Local on-the-ground organizations are highlighted with regional resource maps alongside global initiatives.